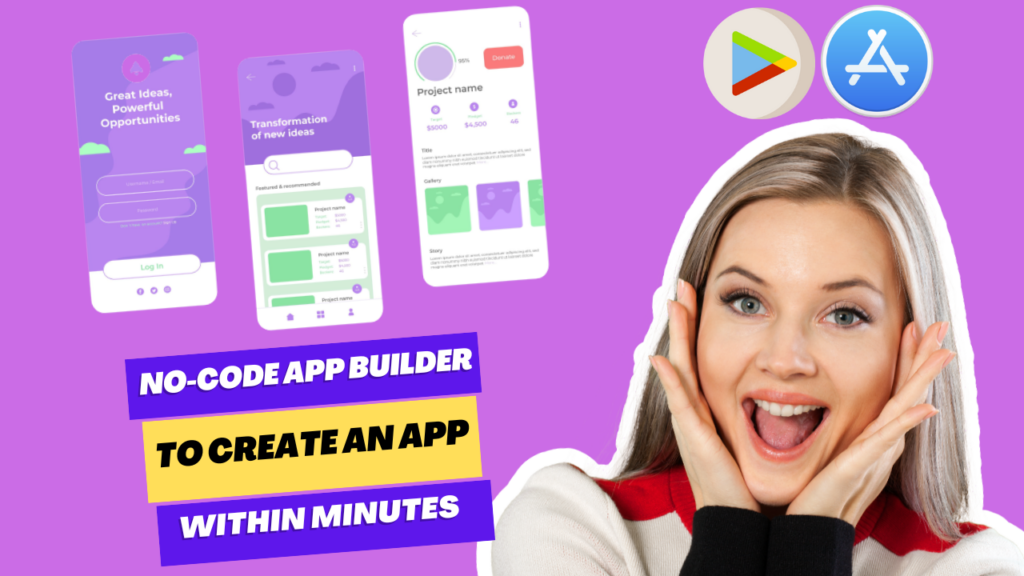 There are a number of amazing app maker platforms online but among them, Appstylo is unique in its own way. This app maker is reviewed as the best mobile app maker on the internet in 2023. Due to its Multiple platform support, the lowest level of coding skills requirements, and intuitive flexible designs people choose it as the best mobile app builder online.
More About Appstylo
We publish your applications to the play store and app store on your behalf. With Appstylo (the best mobile app maker), you can push notifications to your user's & customers' mobile devices to build a close relationship. Our back office is shipped with analytic tools to give your insight into your users' behaviors. Via our CMS backend, you manage your products & push your new products to your customers in real-time.
With the advanced widgets, you can integrate out-of-box features into your app in minutes. We support multiple social page integration. We provide the login/signup modules, which permit you to build your own user base. The e-commerce modules transform your existing E-Shop into a mobile shopping app.
With the loyalty card, you promote your products and services to your loyal customers. The feed modules connect your business with your users by pushing the news and events to your users. The CMS modules send dynamic content to your users. We also support blogs and photo galleries seamlessly.
Why Choose Appstylo?
ONE-STOP PLATFORM
Appstylo is a one-stop platform for building and managing your application in a very intuitive way. You can create cross-platform application online. No coding skills are required & you can design your app in a 100% DIY way.
FEATURE RICH
Our platform provides rich built-in features and modules to meet your business requirements. With the basic building elements, you can build and design any features you want your application to have.
INTUITIVE FLEXIBLE & UNIQUE
With Appstylo app builder, you can create pages using drag and drop, visual elements, and widgets onto your pages. You could select a template as a starting point and then customize and adapt it to your needs.
FAST & HIGH PERFORMANCE
The apps you make using Appstylo are 100% native which gives an excellent user experience. App makers & builders wrap your website into a WebView. Appstylo differs by rendering native UI, which makes app reactive & runs fast.
MULTIPLE PLATFORM SUPPORT
Our mobile app maker supports the creation of native apps for iOS, android, windows, and mobile websites. Providing the ability to create cross-platform mobile apps with ease.
WITHOUT CODING SKILLS
With the free app builder, you design and build your mobile application with the web browser. By dragging and dropping the UI elements, anyone even without coding skills can build magical apps in minutes.
You could also choose to build your app pages from scratch. We give you the freedom how to lay out your elements and how to navigate between pages. With Appstylo, you create a unique design for any type of application.
Frequently Asked Questions (FAQ's)
How much an app builder costs?

Most app development companies would cost around $100,000 for as much functionality as you want to add but using app builders like APPSTYLO would cost you just $14 per month to $39 per month depending upon your need for creating a mobile app.
Can I create an android app without coding?

Yes, creating apps without any coding knowledge is now possible using app builders online. Appstylo is the best free app builder, that provides an easy (no coding) way to create a mobile app just by dragging and dropping elements and components you want to include in your app and simply customize them.
What makes Appstylo the best mobile app maker?

While choosing the best mobile app maker you must look out for some of the core features that your mobile app builder must have which could include a visual editor, adaptive navigation, flexible layout, content management feasibility, and ready-to-use templates just like Appstylo.
Can I create a native mobile app with an app maker?

You can easily create fully native mobile apps using an app maker, but you should choose the appropriate app maker like APPSTYLO which provides you with compatibility to create native mobile apps without any coding skills within a few minutes.
Does the app builder create cross-platform apps?

Not all app builders would provide access to creating cross-platform apps which run both on Android and iOS. But there are definitely some good app builders which provide you with the services for creating cross-platform apps.
If you have any further queries you do let us know at support@appstylo.com