In this article, we will discuss how to generate an android app using APPSTYLO, and then in the next phase, we will be talking about how to publish an app on google play step by step. So, without any delay we would start with the steps for creating your mobile app using APPSTYLO :
Think about different screens and features
It's ideal to create think about different screens and features before you begin to create a mobile app. It's like creating a mockup which is an informal sketch of your app's format, (UIs) and stream. Choose an appropriate template or learn how to create an app from scratch.
2. APPSTYLO provides numerous options when it comes to templates, all available templates are user friendly with great navigation options. All you have to do is look for the best match of the mockup you created in the first step.
Design home screen and navigation
You don't have to worry about changing the font, color, style, padding, position, and borders of your app's home screen. I'd be more complex than a single click and edit it.
Create sub-screens by drag and drop of useful widgets
A complete package of drag and drop widgets of useful features, that will make creating sub-screens pieces of cake. We would recommend that you should at least create the About US page of your mobile app using these widgets that can be customized completely.
Edit content
As already mentioned, you'd find the best customizable templates. This doesn't just mean that you'll be able to drag and drop at your desired location on the app page, but you can change the menu names as well.
Name app and write a description
If you have not named your mobile app in the first step or want to rename it, you can still do that.
Build and Publish
Finally, when your mobile app is generated by following these simple steps you can easily publish your app on google play store.
Steps On How to Publish an App on Google Play
Before you learn how to publish an app on google play, the first thing we must do is create a developer account. It is a simple process that will not take us more than 15 minutes. From here we will have access to the Developer Console. And the following steps that we will see below, we can upload and manage all the applications that we want.
1. Create a new application
The first time we enter our development console it will be a bit empty. One of the options we will see highlighted, is to make an app. But we have already done that.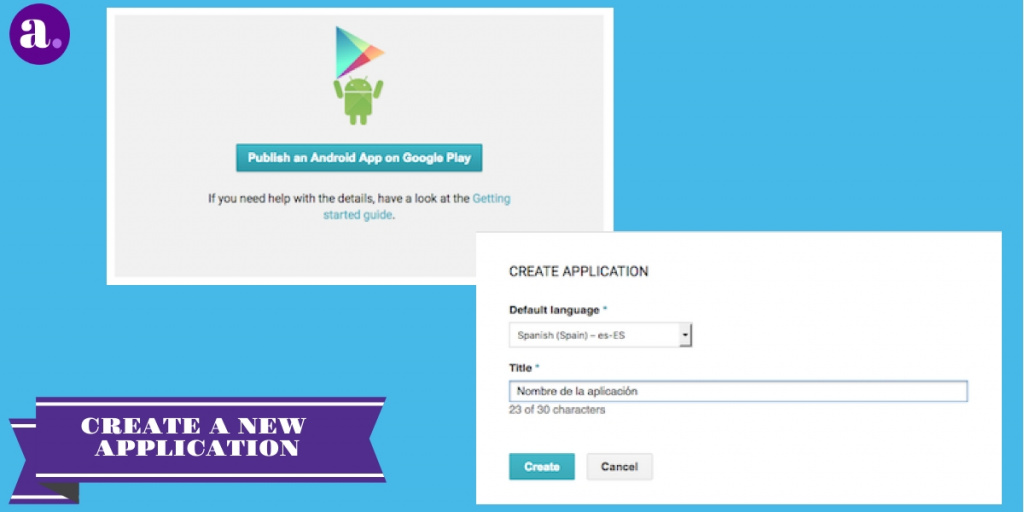 2. Fill in the title and description
Once we have the space for our new application ready, we have to fill in one of the most important parts, the Google Play file. The tab will be what users will see our app before downloading it. Its content will be vital to make the user decide between installing it or skipping it.
The title is not a mystery, it is simply the name with which your application will be listed on Google Play. The short description will appear right in front of our full description, and its main purpose is to make clear what the app is about in a single sentence.
On the other hand, in the complete description, you will be able to elaborate much more detail on each one of the functionalities that it incorporates. The title that we specify at this point will only be shown on Google Play.
Once our application is installed on a device, the name that appears within Android is determined by the application file. Both titles do not have to coincide 100%, but they would have to appear for consistency.

3. Upload screenshots
Once we have all the texts ready, it's time to prepare the graphic resources. These are of great importance to convince the user. After all, an image is worth a thousand words. The first image that we have to upload are the screenshots of the application. We do all of this within the same section where we fill in the texts, and as a minimum, we will have to have two screenshots prepared.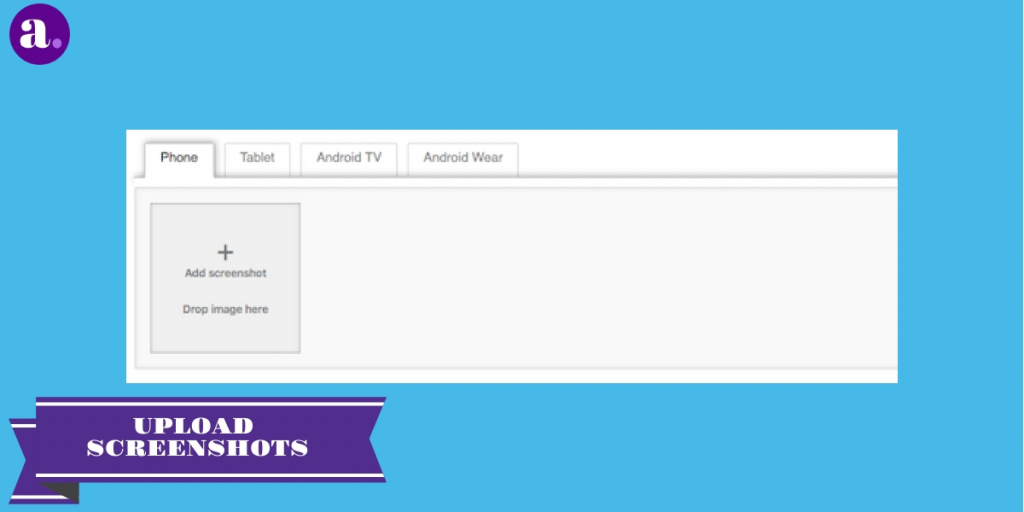 We can upload different captures for different types of devices. We can see how you can upload screenshots for mobile phones, tablets, Android, and other devices. It is important that if your application is designed, for example, for both mobile phones and tablets, you upload different screenshots for different devices.
When the user is viewing your application from the mobile in Google Play, the mobile screenshots will appear first. In the same way, if you are viewing it from a tablet, you will first see the screenshots on this type of device.
Typically, applications use different interfaces for tablets and mobiles. In this way, the user gets an image of the interface more in line with what they will see on their device.

4. Place icon, promotional images, and video
After the screenshots, if we continue going down in the same section of the tab, we will find the last necessary graphic resources. The first is the application's high-resolution icon. This image will be the one that will appear on Google Play representing our application, therefore, it is as or more important than the screenshots.
Next, we will have to provide a series of promotional graphics that Google can use to promote our application. Anyway, the only one that is mandatory is the so-called Feature Graphic.
Where does this graphic appear and why is it mandatory?
This image is the one that appears right at the top of our Google Play file. Finally, we can optionally add a YouTube video that represents our application. Currently, if we have a video in our file, it will be shown by tapping on the promotional graphic that we have already know.

5. Choose a category
As you may already know, stores like Google Play and App Store organize all applications into categories. This is precisely what we will have to choose if we go down a little more in the tab section.
First, we will have to select the type of application. Specifically, we will have to indicate if it is a game or an application, worth the redundancy. GooglePlay considers that they are very different things, and therefore they will have different categories.

6. Fill in contact details and privacy policies
Finally, to end the process, we will have to fill in the contact details and include privacy policies if we need to include them. It is important to note that the contact details will appear publicly both in the application and on the Google Play website.
Many companies dedicated to application marketing use slightly aggressive in customer acquisition techniques. They are dedicated to automatically collecting all emails from developers and use them for advertising purposes without permission.
Once we have our application published, it will not be anything unusual to start receiving spam in the mail that we indicate in this section. So, just keep it in mind and do not use an email that you normally use and is important.
7. Add more languages
Once at this point, we could have the section of the Google Play tab ready. However, what if our application is going to be available in different languages? Well indeed, as you will surely be imagining, we have to do it from here. Specifically, if we return to the upper area of ​​the section in which we are, we will find a drop-down menu to add new languages.

8. Upload the APK file
Itis time to upload the application file. For this, the person who has been in charge of developing it will have to provide us with a duly signed file with an APK extension. The file with which the application is signed, as well as their respective users and passwords, must be kept as a treasure. Without them, we will not be able to update our application in the future.
The first thing we must do is go to the Manage Releases menu. From here we can create various types of launch. They are divided into two groups: production and testing. Anyway, the option that interests us now is the production option, so we are going to click on Manage Production.
So, without further mystery, we click Create release. The first and most necessary point of a new release is an application file. Through the Upload APK button, we will have to upload our APK file. If everything is correct, the version name will automatically be filled with the version number of the application.
To finish, we can click on Review to confirm our launch. Confirm does not mean that our application will already be available on GooglePlay. We still have some steps left for this and we will have to come back to this section later when we have completed them.

9. Fill out the content rating form
Once we have our application file uploaded, we have three-quarters of the job done. Now it's time to give our app a content rating. This is a new feature that Google added about a couple of years ago. Just as video games indicate on their covers the recommended age to play them, now applications also do something similar.
We simply have to answer a series of questions on the form that we will find in the side menu. One thing to keep in mind is that we must be honest. If we try to lie on some questions to get a rating for all audiences, and it is not, Google can remove our application for breaching its policies.

10. Define price, countries, & acceptance of policies
Finally, we must decide on two quite important aspects of our application: the price and the countries where it will be available. All the settings at this point will have to be configured in the Pricing & Distribution menu.
The next step will be to indicate the countries where we want our application to be available.
If we want to publish the app in all countries, we simply have to select the mall.
To finish, we must confirm that our application complies with Google Play policies. In other words, we will not do anything that is prohibited by Google. Also, we will have to mark and understand that our application is subject to US law, since, after all, Google is a North American company.
11. Confirm the publication
Finally, and after the 10 previous steps, we can already learn how to publish an app on google play and make it visible to everyone through Google Play. For this, we will have to go back to the release that we created earlier when uploading our file. Simply, if we access the Manage Releases menu, a button will appear to directly access this pending release.
As it is the first version, we simply have to confirm that we want our application to be available to everyone. By clicking this Start rollout to the production button our application will be ready to download on Google Play in a matter of a couple of hours. At the time this happens, an email will arrive at our Google account, confirming that the application is available. You can learn tricks on how to increase app downloads.
Conclusion
As we can see, learning how to publish an app on google play is not a complicated task. We simply have to keep all the necessary resources ready and it will be a mere 10-minute process for learning how to build an app. If you have any further queries do let us know in the comment section down below.
---